The decision to beautify your body through the expression of tattoo body art was clearly one that you didn't take lightly. You were no doubt made well-aware of the permanence of the procedure. It is something that becomes a part of you and becomes representative of who you are.
But life happens. Things have changed and the tattoo no longer represents who you are today. Are you stuck with it? The Journal of the American Academy of Dermatology reports that 24% of individuals between the ages of 18 and 50 have tattoos, but that 17% of them have actually contemplated having their tattoo removed.
Can a tattoo be removed? The answer is that it depends. Due to the permanent nature of a tattoo, the success rate of tattoo removal is dependent upon a variety of factors: your natural skin color, the size of the tattoo, the pigments used in the tattoo itself, and the technique employed to remove the tattoo, just to name a few.
Fortunately, tattoo removal technology has evolved and become more sophisticated, less intrusive, and safer than the foregone days of yesteryear. The de-inking process leverages the latest, state-of-the-art advancements in laser technology.
What NOT To Do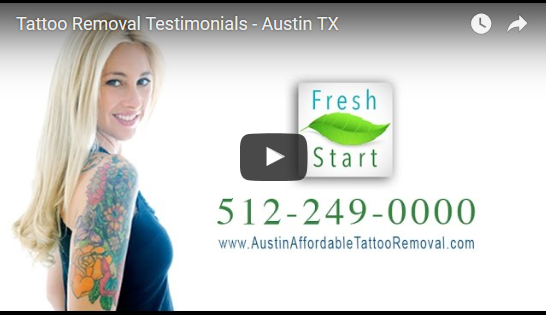 Dermabrasion – When you "sand" down your skin to the point where the tattoo is completely removed, it will take some time for the underlying layers of skin to heal, plus you run the risk of residual scars of a permanent nature.
Salabrasion – A salty solution is applied to your skin, in conjunction with heat, such that the tattooed layer of skin is scraped away. However, scars are likely to remain, once the skin heals.
Surgery – The layer of skin that contains the tattoo is surgically removed, and the surrounding skin tissue is stitched together to close the gap. Unfortunately, this method is also very likely to leave a scar as well.
Scarification – An acidic solution is applied to the tattoo, such that the tattooed layer of skin can literally be "lifted" off of the body, similar to how a chemical peel removes the top layer of skin during any other type of cosmetic skin enhancement.
Cryosurgery – This is an extreme form of tattoo removal. It involves the application of liquid nitrogen to the tattooed area of the skin, which has the net effect of producing "freeze burns". This destroys the tattooed layer of skin. This technique is also used in other dermatological procedures, such as for the removal of wart or the healing of lesions on the skin.
In each of the tattoo removal techniques described above, scarring is an inevitable side-effect. Ironically, in effect, you are merely swapping out the original tattoo design with a scar "design" that will forever remain behind, as a remnant. Your skin will never be able to be restored to its original pristine state, prior to the tattoo having been applied.