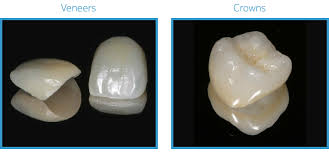 Smiling not only makes a person feel good, but it conveys positive emotions towards other people. When a person's teeth are less than perfect, they tend to want to cover their mouths with their hands or smile without showing their teeth.
If your teeth are stained, slightly deformed, or misaligned, porcelain veneers may be for you. They are made out of laminated thin layers of dental material and bonded to the outside of a person's tooth to change its shape and color so it will blend with the rest of their natural teeth.
Veneers aren't just a technical procedure – dental lab technicians (experienced artisans) produce these works of art. With their skills, they can shape veneers into life-like forms that are indistinguishable from other teeth.
Veneers can be produced using a variety of different kinds of materials. Feldspathic porcelain has been the preferred method for years. The powdery material, when mixed with water, forms a paste that technicians can use to build several layers on top of one another. After firing or curing them in an oven, the final product imitates the translucency and color variations of a person's natural teeth.
There are limitations to using feldspathic porcelain, even though it is still being used today. It can shrink as it's being cured which makes the built up layers not very shatter-resistant or strong like a single composed piece would. In the 1990s these weaknesses were addressed when reinforced leucite started being used. When this mineral was added to a ceramic base, the heated material was pressed into a mold to form a one-piece core veneer. The strength increased dramatically; however, the early leucite veneers would only work in places where there was extra space for them, unlike traditional porcelain.
More advanced veneers were developed using lithium disilicate, a type of ceramic glass. These new veneers could easily be pressed down three-tenths of a millimeter in thickness, which was twice as strong and significantly thinner than the leucite veneers. To improve the fit of the veneers, lithium disilicate can be milled, similar to leucite. Even better, a layer of feldspathic porcelain can be added to improve the appearance of the veneers.
The craftsmanship and science behind porcelain veneers have vastly improved over the last 30 years. The materials are more pliable and durable, and if the veneers are properly taken care of, they can give you a wonderful smile for many decades.
r you.